Governor Ayodele Fayose of Ekiti state on Sunday promised not to attend the meeting called by the Federal Government with state governors on the Treasury Single Account, TSA, which he claims to be fraudulent activities to Nigeria and its people.
The governor said this in a press statement issued by his Special Assistant on Public Communications and New Media, Lere Olayinka, stems from his belief that the Ekiti state government was not interested in the TSA policy introduced by President Muhammadu Buhari.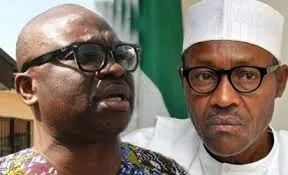 Fayose asked the Federal Government to rather remove the veil on the face of REMITA, the alleged firm handling the TSA contract, "so that Nigerians can know the real owners, through whom the All Progressives Congress (APC) is siphoning Nigeria money to fund Kogi and Bayelsa states governorship election."
"From all intent and purposes, this TSA policy is aimed at recouping money spent on the last general elections by the APC, as well as raise money for future elections, especially the Kogi and Bayelsa States gubernatorial poll.
"It is also meant to enrich some individuals for doing virtually nothing and that can be seen from the discovery of N25 billion that already accrued to just a single company in one month!
Governor Fayose said the Federal Government cannot force its policies on states that are federating units in the Nigeria federation.
"Ekiti State is entitled to its own policies and it is not under any obligation to accept Federal Government policies, especially the TSA that is already robed in the garment of fraud.
"In this economic situation that Nigeria is, shouldn't the one percent commission have been negotiated downward to like 0.1 percent which would have reduced the N25 billion to N2.5 billion?
Source: PM News