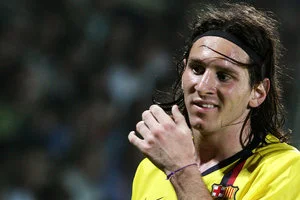 A player from Trinidad and Tobago in a pre-match handshake first of all paid obeisance to former World Footballer of the year,Lionel Messi by bowing down to him before their friendly game against #Argentina on Wednesday.
Such was the adulation by the player, Atuallah Guerra who apparently was starstruck on seeing his co-player that he bent down in reverence to the Barcelona player.
Atuallah was the last on his country's line and Messi the first for Argentina(being the skipper) and he couldn't help but smile on seeing that.
This is will not be the first time that #Messi is getting such attentions. There was a time an assistant referee sought for his jersey after the first half,which was widely criticized then.
Below is a link of the video showing #Atuallah bowing down to Messi