A faction of the Indigenous People of Biafra, IPOB, identified as The Re-branded Indigenous People of Biafra, TRIOPOB, has broken out of the main group over alleged inflexible and defeatist position of IPOB led by Nnamdi Kanu, currently in detention.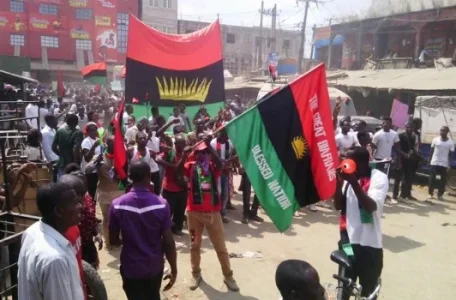 Spokesperson of the splinter group, Chima Phillip Effiong Osuji, said the decision to break away as taken at an emergency meeting convened by some disaffected members of IPOB on Monday, August 22, 2016 in Aba, Abia state.
"It was resolved that due to the rigid and fatalistic position of the Nnamdi Kanu- led IPOB, several of us with like minds shall breakaway and form The Rebranded Indigenous People of Biafra, TRIPOB," he stated.
The new group said that Biafra would not be a reality and on October, 1, 2016, would set ablaze the Biafra flag in Abuja, recite the national anthem and pledge to Nigeria, while the spirit and intent of Biafra will be pursued inside the Nigerian nation.
"In view of this new mind-set, members of the TRIPOB and any new defectors will on October 1, 2016, make a public denunciation of a secessionist Biafra Republic at the Eagle Square, Abuja"
"The event will also include recitation of the pledge to Nigeria, our country, singing of the national anthem, followed by a solemn burning of the Biafra flag and unveiling a new Biafra flag representing pride, change, potential and spirit of the Igbo race which can thrive anywhere in the world."