Troops of 7 Division Garrison of the Nigeria Army, Maiduguri, have destroyed a factory where Boko Haram manufactured rockets, Leadership newspaper reports.
In a statement, the army spokesman, Col. Sani Usman, revealed that the factory at Jamrari was uncovered and destroyed during a special raid carried out at the general area of Delwa.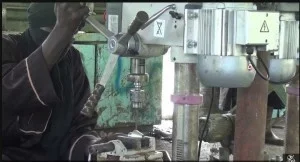 You can Also READ - Boko Haram Overtakes ISIS As World's Deadliest Terror Organisation
According to him, "This unprecedented development has put paid to the much touted ability of the terrorists to fabricate rockets and their launchers using rudimentary materials."
"This has further crippled the terrorists and greatly emboldened the troops in carrying out more offensive actions against the terrorists till they are defeated."
The chief of army staff, Lieutenant General Tukur Buratai, who is in constant communication with the troops, commended them for this singular act and other similar feats, just as he encouraged them to do more, asserting that the terrorists are on the verge of being defeated.
You can Also READ - Kano Bomb Blast UPDATE: How it Happened
Source: Leadership