The Nigerian troops killed four suspected Boko Haram suspects and set free 61 people, mainly women and children, held by the jihadist group in the flashpoint northeastern Borno state, the army said Thursday, Vanguard reports
In an operation, troops under air cover cleared Boko Haram camps "and in the process rescued 61 persons abducted and held captive by the Boko Haramterrorists," the army said in a statement.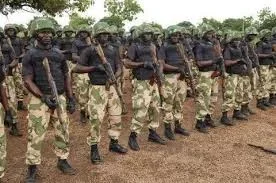 "The rescued persons were mainly women and children," the military said, adding that troops also "killed four terrorists and arrested one."
The Nigerian army had last October 28 also said it freed more than 330 people, mostly women and children, from Boko Haram's Sambisa forest stronghold in an operation in the volatile northeast.
Of the survivors, 192 were children while 138 were women.
There was no independent confirmation of the army claims.
There has also not been any indication that any of the more than 200 schoolgirls seized by the Islamists in April last year in Chibok town, Borno state, was among those rescued so far.