Republican presidential candidate Donald Trump said yesterday that rival Ben Carson has a 'pathological temper' that can't be cured any more than a child molester can be cured.
Trump first made the claim in an interview with CNN, then continued the strong criticism during a 95-minute rant at an Iowa rally.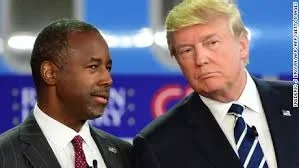 'If you're a child molester - a sick puppy - you're a child molester, there's no cure for that,' Trump proclaimed, other than what he called the 'ultimate cure' - and death.
He said he didn't believe Carson's story about his religious awakening in his bathroom, either, and questioned the retired neurosurgeon's tale about nearly stabbing a friend.
Trump imitated the incident, moving his belt up and down to demonstrate how difficult it would be to strike the buckle instead of flesh, and bellowed moments later, 'How stupid are the people of Iowa?'
'How stupid are the people of this country to believe this crap?' Trump said during the campaign event at Iowa Central Community College.