Two Chinese men, Liu Honyang, 47, Sun Xinai, 49; and their Nigerian collaborators, Oriyomi Olawale, 47 and Desmond Chinedu, 25, have been arrested for running a fake Trinidad and Tobago embassy in Lagos state.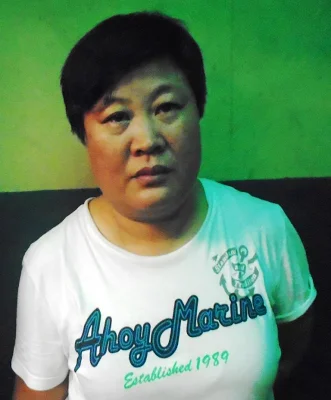 Policemen lodged in a hotel for two days monitoring their activities before eventual arrest.
After the arrest, some of their victims showed up at the RRS's Headquarters, recounting how they were duped respectively, hence their deportation from Trinidad and Tobago.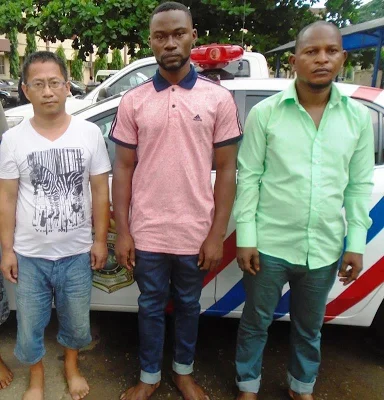 A victim, Adekunle Adefuye, has this to say:
"I met these people (suspects) through one of their agents, Dorcas Slyver. She is a daughter to my brother's pastor in Abeokuta. I told her my intentions and zeal to travel to United States of America…. After a while, she told me to come to Lagos that she can procure the American visa for me…. On getting to Lagos, she took me to these Chinese where I was told that I should go to Trinidad and Tobago…. They persuaded me to go Trinidad and Tobago that it was easier to secure employment with at least 3,000 dollars as salary."
"Initially, I declined to take their bait, insisting that I preferred America to Trinidad and Tobago (T&T)…. But in the long run, they brainwashed me into agreeing to go to Trinidad and Tobago. It was at this point, I was told that I would pay N1.3 million for the whole process including visa processing and flight fare…. The payment was made in installment. N376,000 for Visa, ticket N850,000, accommodation N39,000 and Visa Fee N33,000, which I obliged and paid all the monies into Dorcas' GTB Accounts: 0130671906."
He revealed that he and another person were rounded up immediately they got to Trinidad and Tobago by the country's immigration officers for coming into the country with fake visas.
"We spent two days underground inside the Police custody. They treated us like criminals trying to enter the country illegally," he added.
"We left Lagos enroute Lome on October 19th, 2016. From Lome to Sao Paulo in Brazil. From there, we moved to Panama where we boarded another plane to Trinidad and Tobago…. On getting to the country, we were arrested by their security operatives accusing us of entering their country with fake visa and documents…. We were locked up for 48 hours before we were deported on October 22nd, 2016 and arrived Nigeria the following day," he added.
"When we arrived Nigeria, we didn't let them know we have been deported. They thought possibly we were lucky to have entered the T&T without any challenge.
It was one Good Samaritan that came to our rescue in Trinidad and Tobago, who pleaded for us when they threatened to prosecute us before we were sent back to Nigeria.