Two men (Benedict Ola Idega and Abdulsalami Leader H. ) fronting as security aides of President Muhammadu Buhari have been arrested for trying to defraud Ekiti state governor Ayodele Fayose.
They were arrested at the Afao-Ekiti ( Fayose's home country) for presenting themselves as staff of the Office of the National Security Adviser (ONSA), with influence over the report of the military panel set up to investigate alleged involvement in partisan politics by some soldiers and officers during the 2014/ 2015 gubernatorial election conducted in some states such as Ekiti, Osun, Rivers and Akwa-Ibom.
They claimed that they already had the preliminary report of the military panel and that with the cooperation of the governor, they could manipulate the final report if necessary.
They also said the army panel report was targeted at some top army officers that the Federal Government wanted to punish.
The two men, in a meeting with the governor presented what they called a photocopy of page three of the preliminary report to show that they meant business. The purported copy of the page three bore the Nigerian Army's logo.
After turning copy of page three of the purported preliminary report, the governor gave the impression that he was satisfied with all that they said and asked them to wait in his waiting room for him to show appreciation.
He then called in the Commissioner of Police and SSS Director, who in turn asked their men to move in and arrest the two men.
The identity card found on Abdulsalami Leader H bore "GMB SECURITY" and it was stated at the back that he (Abdulsalami) act as security for President Muhammadu Buhari with Number 34, Lobitto Crescent, Wuse II, Abuja as issuer's address and 088133636478 and 08057010255 as telephone numbers. Benedict Ola Idega was with the identity card bearing Federal Capital Development Authority, FCDA.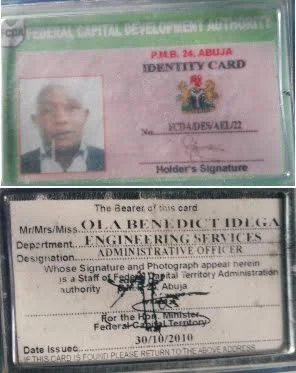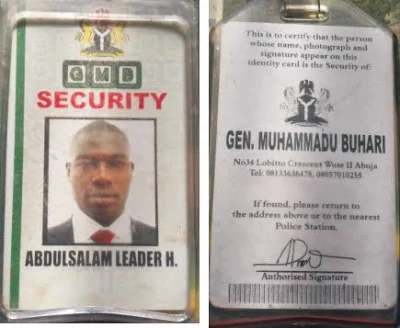 See PHOTOS of The Fake Buhari Aides Who Tried to Defraud Gov Fayose
The two men, who lodged at a popular hotel along Bank Road, Ado Ekiti are now being detained at the Police Headquarters, Ado Ekiti alongside another suspected accomplice, who was found in their hotel room when policemen visited the hotel for a search.
Special Assistant to the governor on Public Communications and New Media, Lere Olayinka, who confirmed the incident said even though it has been established that they were impersonators, the real intention of the men was yet to be ascertained.
He said; "We don't want to pre-empt the security agents that are already investigating the incident. But it is certain that they have ulterior motives. We are also not ruling out the possibility of an attempt to set-up the governor, obtain money from him under false pretence or even harm him.
"Therefore, we expect that the security agencies will do their job thoroughly by ascertaining their real motives and their other accomplices."
"However, we must say that anyone thinking that report of any military panel can be used to upturn an electoral victory already upheld by the Supreme Court, which is the final destination for dispute on governorship election must be thinking of committing judicial coup d'état, which by all standard is treason."
See PHOTOS of The Fake Buhari Aides Who Tried to Defraud Gov Fayose