Europe football ruling body UEFA on Monday released a 10-man shortlist for UEFA's Best Player in Europe Award.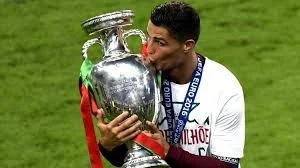 The award is voted for by journalists from across Europe, who list their five best players of the 2015-16 season before the votes are pulled together by the governing body.
Christiano Ronaldo remain the clear favourite to claim the award after winning Euro 2016 with Portugal and the Champions League with Real Madrid.
See list of nominees:
1. Gareth Bale (Real Madrid & Wales)
2. Gianluigi Buffon (Juventus & Italy)
3. Antoine Griezmann (Atletico Madrid & France)
4. Toni Kroos (Real Madrid & Germany)
5. Lionel Messi (Barcelona & Argentina)
6. Thomas Muller (Bayern Munich & Germany)
7. Manuel Neuer (Bayern Munich & Germany)
8. Pepe (Real Madrid & Portugal)
9. Cristiano Ronaldo (Real Madrid & Portugal)
10. Luis Suarez (Barcelona & Uruguay)