The management of the University of Ibadan, UI, has shut down the institution and ordered all students to vacate the campus before 6pm today May 29, 2017.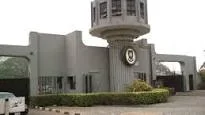 VANGUARD reports that the University campus was shut down after students accused management of insensitivity and staged a protest.
UI's Director of Communications and Publication, Olatunji Oladejo, told newsmen that the closure became necessary so as to avert crisis. Undergraduate students are to resume back in school on July 17, while the post graduate students would continue to stay on campus for their research activities.