United Nations Secretary-General, Ban Ki Moon, on Thursday condemned Tuesday's bomb attack in Yola, Adamawa, North-East of Nigeria, which claimed many lives and left others injured.
Ban, in a statement issued by UN Information Centre (UNIC) in Lagos, said that no political or ideological objective whatsoever, should justify the killing of people.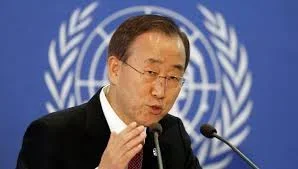 The Secretary-General condemns the bomb attack on 17 November in the city of Yola, in the North-Eastern state of Adamawa, Nigeria, which resulted in death of dozens and scores injured.
"He extends his heartfelt condolences to the families of the victims as well as to the government and people of Nigeria, and wishes a speedy recovery to those injured.
The statement also restated UN's support to the Nigerian government in its fight against terrorism.
It also said that for the government's effort at fighting terrorism to be effective, such effort must be grounded in international humanitarian, human rights and refugee law.