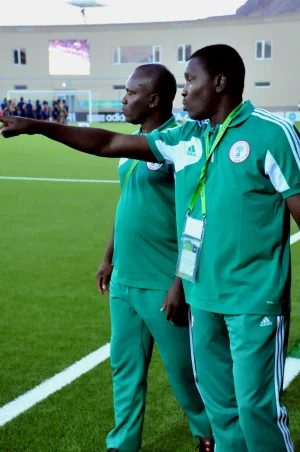 Coach of Nigeria's Falconets Peter Dedevbo has promised to work on his team's lapses when they take to the pitch for their second game of the FIFA under 20 Women's World Cup taking place in Canada.
The Falconets played out a 1-1 draw in their first game against Mexico and will be hoping to win other games to qualify from their group.
Dedvebo promised to rejig his tactics in their next game,adding that their draw against Mexico did not go as was initially planned.
"It is like every other match," he started. "At times you don't get what you expect. When your plan does not work out for you, you feel a bit disappointed," he said.
"There is no problem. It happens like that in most first matches of every competition. The team gave their best".
"I did not expect them to be this strong, they have given me the opportunity to see some lapses in my team which am going to work on. Am not satisfied with a draw because I wanted a win to put the team top of group C".