A teacher in Igede Ekiti, the headquarters of Irepodun/Ifelodun Local Government Area in Ekiti State, on Sunday stole a pot of amala (yam flour meal) from a neighbour's flat.
The incident, which happened at Odogede area of the town at about 1.30pm, caused a stir among the locals who sympathised with the teacher, who works at Ekiti Baptist High School.
According to
The Nation
, the incident happened in a building made up of three flats.
A source, who lived within the vicinity where the incident happened, said: "The incident happened at about 1.30pm on Sunday when majority of the residents had arrived from their churches and the teacher could not go to church because of the prevailing condition.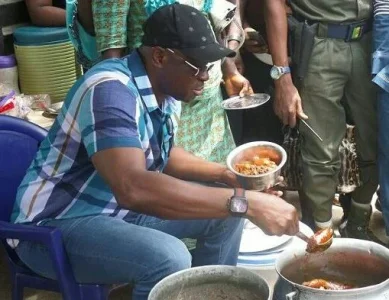 "The neighbour on arrival at home prepared an amala, but unknown to her, the teacher had been watching and bidding her time when the owner of the food would leave the kitchen before she struck.
"As the woman preparing the food left the kitchen, the teacher went there and stole the pot of amala and carried it to her room.
"But owner of the food screamed and was startled to find the teacher and her two children eating the amala with palm oil.
"The owner of the food, apparently touched by the action of the teacher, went back to her apartment and brought soup for the teacher and her children to eat to satisfaction."
The Nation also gathered that many civil servants have relocated to their villages to carry out farming because of the uncertainty surrounding the time they would be paid.
Source: TheNation newspaper