The number of female Internally Displaced Persons (IDPs) carrying pregnancies as a result of non-marital sex at camps in Maiduguri, the Borno State capital, is assuming alarming dimensions, with an increasing number of unmarried young women, widows and divorcees becoming pregnant with no definite man taking responsibility.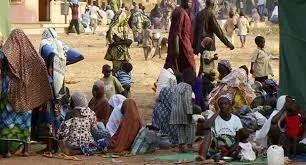 Some of the affected across the camps, who are either pregnant or have since delivered, told Daily Trust on condition of anonymity because of stigma, that they were impregnated by officials in the camps, including those responsible for providing security.
Daily Trust had recently reported the President of the National Red Cross Society (NRCS), Elder Akpan Anani, when he said a major challenge faced in many IDP camps are cases of unwanted pregnancies, even as the organisation discovered rampant cases of teenage girls and single ladies getting pregnant in the camps. He said the Red Cross had been working to curb the situation by counseling the ladies against such acts because "the psychological effects and social factor affects them negatively." But the situation, apparently, continues to worsen.
A 19-year-old nursing mother at Dalori Camp told Daily Trust that she was not forced into having sex with the two security men and a Civilian JTF man who befriended her before she took in.
Rather, they enticed her with food. "You know we are very many in this camp. I understand we are about 32,000 IDPs here, so it is difficult for anything meant for us to go round.
Read more in
Daily Trust