Protests at a Donald Trump, US Republican presumptive candidate, rally turned violent Tuesday night, with protesters throwing burning T-shirts, rocks and bottles at police and police horses, police said. They overturned trash cans and knocked down metal barricades used to keep protesters away from the convention center entrance.
The air outside was thick with smoke, shouting, and profanity as hundreds of protesters swarmed the intersection outside the Albuquerque Convention Center, the scene of the rally. Some hung out of cars stopped in the middle of the street, revving their engines and flying Mexican flags out windows. Others held signs that called Trump a "racist" and "fascist."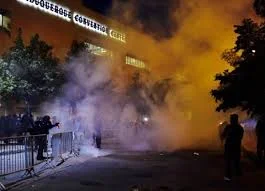 Hours after protesters lined the sidewalk outside the rally, holding signs opposing the presumptive Republican presidential nominee's immigration rhetoric, the streets of downtown Albuquerque remained flooded with raucous people antagonizing the police officers trying to break them up.
As the Trump rally let out, supporters clashed with the protesters waiting outside. Members of the two sides hurled insults and at one point, some began to shove each other on the sidewalk.
Police formed a line outside the convention center, armed with batons and canisters of pepper spray. Several mounted police joined them as well. Protesters challenged the lines of police and were eventually pushed back onto the sidewalk.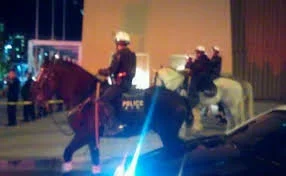 Albuquerque police wearing riot gear also rode through the streets on horseback late Tuesday night, attempting to push protesters out of the downtown area. It was unclear whether these protesters were among the people who stood outside the Albuquerque Convention Center earlier in the evening while Trump held a campaign rally inside.
Source: Washington Post