West Ham United manager, Slaven Bilic, has tipped Nigeria's Victor Moses for success in the English Premier League after his first performance for the club.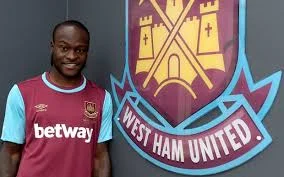 Bilic believes that Moses will be one of EPL's top stars provided he settles down at the London club.
Nigeria international has been on loan for the past three seasons now, his last at Stoke City.
Moses joined West Ham on loan from Chelsea after the arrival of Pedro Rodriguez from Barcelona.
Bilic is set to hand Moses a start against Manchester City following his outstanding performance on his debut against Newcastle United on Monday night.
An impressed Bilic has now said he hopes Moses' West Ham arrangement could become long term for the player to establish himself in the EPL.
"Victor Moses is a class player. He hasn't had continuity at one club. He didn't make it at Chelsea, maybe he didn't make it at Liverpool - which is hard," Bilic said.
"But last year at Stoke he was one of their best players. His first game was really good for us. His composure, his linking play and his work rate."