Nigerian poet, and Nobel laureate, Prof. Wole Soyinka has lectured the world on the creation and menace of Boko Haram and Corruption in Nigeria. Soyinka explained that corruption is responsible for the spread of the extremist sect among other terrorist groups in the African continent. He said this in Norway at the ongoing Oslo Freedom Forum themed 'Catalysts'.
WATCH HIS PRESENTATION BELOW:
The Oslo Freedom Forum is a transformative annual conference where the world's most engaging human rights advocates, artists, tech entrepreneurs, and world leaders meet to share their stories and brainstorm ways to expand freedom and unleash human potential across the globe.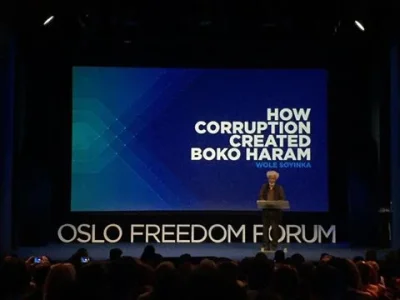 Credits:
Oslo Freedom Forum