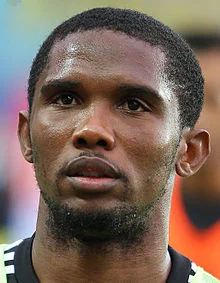 Cameroon had disastrous 2014 World Cup campaign bringing a lot of shame to their country and also to the African continent.
Prior to the commencement of the tournament in Brazil,players of the Indomitable Lions revolted and refused travelling to the South American nation unless they were paid their entitlements.
It was so bad that the players refused to come out and board the plane that when they eventually did travel they had a horrible outing and they even ended up fighting themselves on the pitch (
It got so bad to a point that reports emerged of Cameroon's most decorated player, Samuel Eto'o Fils being arrested upon return to the country.
Eto'o as the captain of the team was believed to have played the leading role in the players towing that line of rebellion.
A paragraph from a report on Africasacountry.com read:
"The idea that the General Delegation for National Security (DGSN), a branch of the Cameroonian police, questioned Samuel Eto'o on June 27th and confiscated his passport does sound like a fitting Kafkaesque twist to the decision by Cameroon's ruler of 32 years, Paul Biya, to order a government inquiry into the poor performance of the Indomitable Lions at the World Cup. The report first appeared on the front page of the June 30th edition of leading independent daily Le Jour before spreading to international news outlets and eventually social media. Eto'o's lawyers immediately denied the allegations in a press release, criticizing Le Jour's reporting as "the fruit of the fertile imagination" of political desk editor Jean-Bruno Tagne, the author of the article, "and his masterminds hidden in the shade." In response, Tagne's editor, Haman Mana, issued a press releaseof his own defending his journalist and standing by the reports: the information was crosschecked by four sources, he said. On July 3, Tagne appeared on leading independent station Spectrum TV as the guest of broadcast journalist Thierry Ngogang's evening program "Entretien" (Interview). Tagne firmly defended his reporting and his integrity.
Like the say," there is no smoke without fire.
Photo Credit: Wikipedia