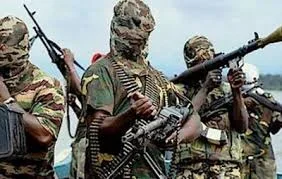 Some Ex-militant leaders in #Ondo state under the third phase of Amnesty programme has pointed accussing fingers as some Northern leaders for being behind the spate of bombing and abduction perpetrated by the deadly terrorists group, Boko haram since 2011,
Speaking at the end of a state of the nation meeting by ex-warlords in the Niger-Delta struggle in Ore town, Odigbo council area of Ondo state at the weekend, the ex-agitators said they were ready to expose every Northern leader behind the Boko Haram sect.
Leader of the group, Boro Opukutu who read the resolutions of the meeting to newsmen, said ex-agitators in the Niger-Delta were battle ready to protect their kinsman, President Jonathan against his detractors and the enemies of his government.
Others at the meeting according to Daily Post included; Fiyeboh Joakimu ( a.k.a Gen Gbaigbai), Mike Atelemoh (Gen. Fire for fire), Mid-west Ikuenogbon and Posi Serun (Gen. Osaisai).
Opukutu said those who are blaming President Jonathan for the deadly attacks carried out by Boko haram sect were ignorant of the happenings in the Northern part of Nigeria which was a deliberate move to stop Jonathan to seek re-election as allowed by the Constitution.
He said people should not blame the President for his peaceful approach to the security challenge facing the country, adding that not everyone could use force like former President, Olusegun Obasanjo did in Odi town during his tenure.
The ex-agitators stated that rather than attacking the personality of President Goodluck Jonathan for the activities of the terrorists, Nigerians should seek to know the role played by some prominent Northern leaders in the emergence of Boko haram in Northern Nigeria.
"The question Nigerians should ask is why the Northern leaders like Gens. Mohammed Buhari, Ibrahim Babangida and Abdulsalam Abubakar have refused to meet with leaders of the Boko Haram sect like President Jonathan did meet with leaders of Movement for the Emancipation of Niger-Delta (MEND), Niger-Delta Volunteers Force (NDVF) and other militant groups during the Niger-Delta struggle?" Opukutu queried.
#DailyPost #BokoHaram #Nigeria