The Acting Director of Information, Office of the Chief of Defense Staff, Brig. Gen. Rabe Abubakar has declared that the army does not know whether Ex-militant leader, High Chief Government Ekpemupolo, Alias Tompolo is dead or alive.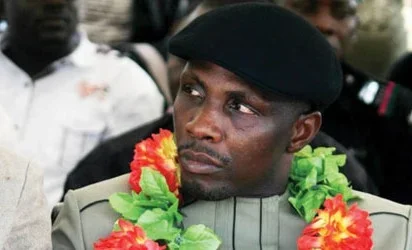 Brig. Gen. Abubakar made the statement during his tour of military establishments in the State. He was also at the Nigeria Union of Journalists, NUJ Warri Correspondents' Chapel.
Abubakar said, " I don't know if Tompolo is dead or alive but all I know is that the Armed Forces and other security agencies are ready to mitigate the various security challenges in the Niger Delta Region."
He also bemoaned the spate of criminalities and terrorism in the North East and Niger Delta by the Islamic Sects and promised on behalf of the Armed Forces to continue providing and maintaining security in the area.
He debunked the claims that that the Armed Forces is against some communities in the region.
According to him, " Those insinuations are coming from people who feel our presence will impede their illegal operations in the Niger Delta.
We are here to provide, maintain security and create the enabling environment in line with the constitution which is our mandate."