David Jemibewon, a retired major general and former governor of defunct Western State, has weighed in on the ongoing faceoff between the Comptroller-General of Nigeria Customs Service and the Senate.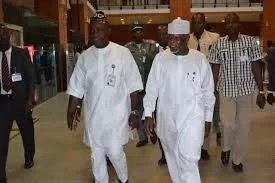 Mr. Jemibewon said the demand from the senators was unnecessary.
"We tend to create controversy where there ought not to be controversy. In a situation we are today, we should not be focusing on wearing a uniform," Mr. Jemibewon said.
Nonetheless, he threw his support behind Mr. Ali, describing him as a fine military man who should not belittle himself with Customs uniform.
"It would be belittling the position of the uniform of a member of the Armed forces," Mr. Jemibewon said.
Mr. Jemibewon, a former Minister of Police Affairs, said he would have resigned if anyone had compelled him to wear police uniform as a minister.
"There was no way anybody could have compelled me to wear uniform. I would have resigned," Mr. Jemibewon said.
"Even if the law said so I would have resigned."
Mr. Jemibewon also admitted that he doesn't know what Customs rules and regulations stipulate, but repeated that an Army officer should be above a Customs' uniform.
"The highest patriotic body in any country in the world is the Army," Mr. Jemibewon said. "You don't expect someone who has risen to that position in the Army to wear customs uniform."
"Here is a man who has excelled in his military career and you're asking that one to wear Customs uniform? I don't see how that will ensure competence and efficiency."