European Football governing body,UEFA has confirmed that the Wembley Stadium in England will host the finals of the Euro 2020 championship.
The Euro championship will be taking a whole new dimension,with the tournament spread across major cities in Europe,in a format that will not leave just one country with the burden of hosting it.
13 venues have been selected to host matches in the championship that will see the emergence of the first pan-continental Euros.
Copenhagen (Denmark), Bucharest (Romania), Amsterdam (Netherlands), Bilbao (Spain), Budapest (Hungary) and Brussels (Belgium) are the host cities that will hold three group games and a last 16 game.
While the quarter-finals and three other group matches will be held in Munich (Germany), Baku (Azerbaijan), Rome (Italy) and St Petersburg (Russia).
And from then the party will move to England where Wembley will take over and host both the semi-finals matches and the final.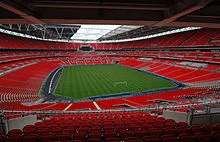 Photo Credit: Wikipedia