Below is a publication of Sun Newspaper of Wednesday, March 10, 2010 on Muhammadu Buhari's view on then ailing President, Umaru Musa Yar'adua: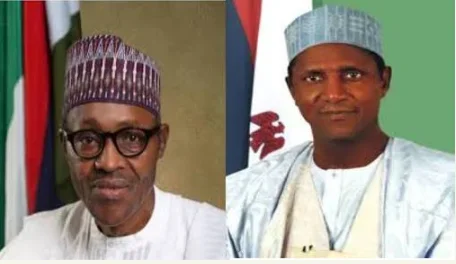 From ISMAIL OMIPIDAN, Kaduna, Sun Newspapers
Former Head of State, Major General Muhammadu Buhari (retd), has declared that the only solution to present political uncertainty in the country is for the National Assembly to set machineries in motion for the impeachment of ailing President Umaru Musa Yar'Adua.
The 2003 and 2007 presidential candidate of the All Nigeria Peoples Party (ANPP) made the declaration yesterday while addressing members of the National Unity Forum (NUF) which had visited him in Kaduna.
Buhari was more forthcoming when he further said the Federal Executive Council must save the nation from the current agony by declaring the president incapacitated to pave the way for his impeachment.
He further argued that Nigeria, as a nation, should not have been in the present situation if the provisions of the constitution were respected by the leadership of the country, insisting that the constitution has specific provisions on how an ailing president could be succeeded, even as he noted that the refusal by the FEC to respect and apply the constitutional provisions had led to the present crisis in the country.
In an apparent reference to the resolution passed by the National Assembly, which empowered Goodluck Jonathan to function as an acting president, the former head of state noted that it was wrong to introduce extra-constitutional measures to tackle problems already addressed by the constitution.
To this end, he stressed that the joy of political expediency would never replace clear laid out regulations spelt out by the laws of the land, adding that 'political expediency won't remedy this kind of problem because if the FEC had acted in accordance with the constitution by invoking the necessary sections to declare the president incapacitated, we would not have found ourselves in this present situation.
'As you can see, adopting extra-constitutional measures have not addressed the problem. If it had, we would not have been subjected to the raging debates and controversy going on. So we must go back to the constitution. The exco must do the right thing because once we start moving away from the constitution, then we are inviting anarchy,' Buhari added.
He also called on the acting president to make electoral reform the priority of his government, saying that he has a feeling Nigerians would stand up for the truth and reject any imposition, or any government that wins election through 'unfair' means in 2011.
While maintaining that unless free and fair polls are conducted next year, both the polity and the country would not be stabilized, the former military leader further said the first measure of commitment to the electoral reform agenda was to reorganize INEC and make it more effective.
He said INEC, as presently constituted, could not give Nigerians what they need in 2011, given what happened during the recent governorship elections in Anambra State.