WHAT THE CRYPTOCURRENCY EXACTLY IS AND HOW TO EARN WITH IT?​
AN EXTENSIVE GUIDE FOR YOUR WEALTH GROWING​
Cryptocurrency, the blockchain, bitcoin, mining, spinner ... If you don't know which one is superfluous, therefore our article will help you to understand this!
WHAT IS CRYPTOCURRENCY IN A SIMPLE SENSE?​
Cryptocurrency is a type of electronic money. Unlike traditional systems, where all data is stored on a centralized server, cryptocurrencies are decentralized. Theoretically, an ordinary server can be hacked or disabled. There is no such danger with cryptocurrency. Transaction database copies are stored on the computers of all participants in the system and they are constantly checked with each other by special algorithms.
All cryptocurrencies are based on cryptography. It's a very reliable encryption mechanism and almost impossible to hack such a system.
HOW DOES THE CRYPTOCURRENCY WORK IN PRACTICE?​
Cryptocurrency is not subject to inflation. A limited number of "coins" is laid initially during creating. You cannot "pre-print" them in any way. The cost of a particular cryptocurrency is determined by the market demand and supply.
Factors affecting the distribution of buyers and sellers forces alignment:
Technological aspects underlying a particular crypto-active
The possibility to use cryptocurrency for the goods purchase
News agiotage (frequently, simulated) etc
Like any other financial asset, you can buy or sell cryptocurrencies on special stock markets, where the cryptocurrency rates are determined.
WHAT IS BLOCKCHAIN? HOW IS IT RELATED TO CRYPTOCURRENCIES?​
The blockchain is a peer-to-peer network on which the distributed database is stored. Each computer has the same copy of the database. This database records information about all transactions, which is stored as a "chain of blocks"
.
The database is updated for all participants of the system with each modification made. Thus, each participant confirms the information reliability in the database.
There are more than 800 kinds of cryptocurrencies in the world. Their rating can be viewed on the analytical service coinmarketcap.com.
We briefly underline you the most popular ones:
Bitcoin
is the first historical cryptocurrency. The current capitalization is as much as $95,546,108,543.
Ethereum
is better known as the "a digital oil analogue". The main difference from Bitcoin is that Ethereum can be used as a "fuel" for the performance of smart contracts (actions in the blockchain, which will be executed automatically when a certain condition is reached).
Ripple
is used for international payments and different money transfers.
Bitcoin Cash
is an alternative of Bitcoin. Each cryptocurrency is created according to a certain algorithm. The bitcoin algorithm was divided into two directions, one of which was named Bitcoin Cash.
Litecoin
is often called "digital silver". It has a shorter transaction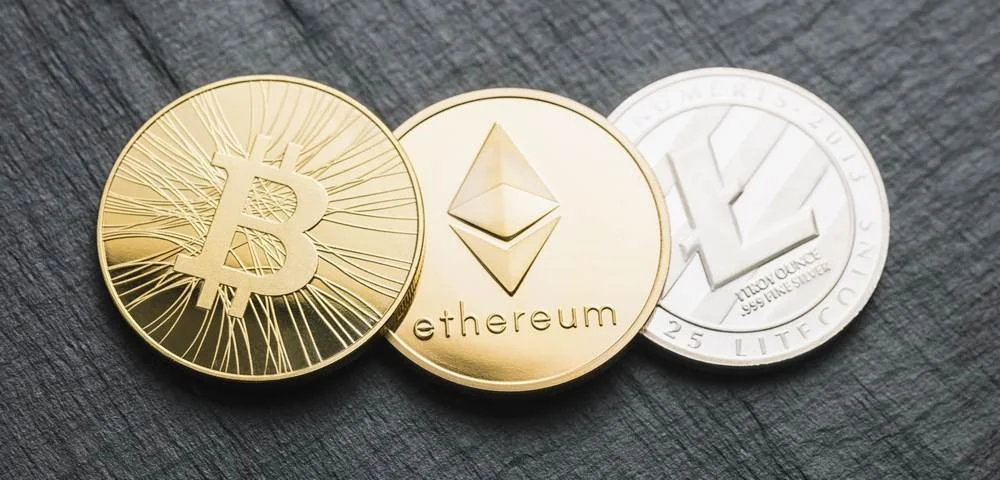 WHERE SHOULD CRYPTOCURRENCY BE STORED?​
A newbie needs to download a special program and create an electronic wallet. This wallet stores a special key that allows you to manage virtual money.
Popular wallets are MultiBit HD, Bither, GreenBits, Armory, Blockchain etc.
By the way, having lost a wallet (in this case, a flash drive with information / a piece of code on your hard drive or in the cloud), you completely lose access to crypto money.
There are several ways to get a cryptocurrency:
Mining.
Complex calculations that generate cryptocurrency are performed on your computer with the help of special software. As a reward, you get certain shares of coins for each currency you earn.
Exchanges.
To exchange cryptocurrencies (for others or for real money) is possible on special stock markets and exchanges.
To render a service/sell goods.
If you have a wallet, you can demand bitcoins or other cryptocurrencies as a payment for your services.
WHAT ONE CAN AFFORD WITH CRYPTOCURRENCY?​
There are many places in the world where you can pay off with cryptocurrency. For example, AirBaltic Airline allows buying a ticket with cryptocurrency, you can also get jewelry with Reeds Jewelers, Dell computers, Microsoft programs online etc. Google developed a special map, where one can see places that take bitcoins as a payment.
In conclusion, we can say that cryptocurrencies have a growing influence on the financial markets. They've become a favorite trading instrument for traders around the world due to the high price volatility, which helps to earn higher incomes on the rate changes. Especially for these traders, JustForex has created the
Crypto account
,
which will give an opportunity to experience the dynamic cryptocurrency trading.
Choosing the
Crypto account
,
you will be able to trade with 39 trading instruments, spreads from 0 pips and a leverage of up to 1:3. You can also start trading with any amount since there are no minimum deposit requirements.
Read the latest
CRYPTOCURRENCY ANALYSIS
. We deliver weekly cryptocurrency analysis that will help you in trading.