Former Minister of Aviation, Femi Fani-Kayode has reacted to the new law by the Financial Regulatory Council of Nigeria on the corporate governance of Not-For-Profit organizations where Churches, Mosques and others organization fell.
The effects of the new codes of corporate governance issued by the Financial Reporting Council (FRC) are beginning to manifest on Nigerian Churches although the council has said that Orthodox and Mosques have adjusted to the new policy while Pentecostal churches are still adamant.
Last week, Pastor Enoch Adeboye stepped down as the General Overseer of the Redeemed Christian Church of God (RCCG) of Nigeria owing to the letters of the new Financial regulatory council.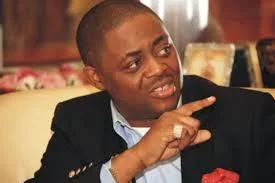 In his reaction, Fani-Kayode said the new law is an attack on the Church and queries what business government has with Churches.
He said: "The law that says G.O's of Churches who have been there for 20 yrs must go is an attack on the Church. What is govt's business with Churches?"
The Former Aviation minister is a sharp critic of President Muhammadu Buhari-led federal government and a member of the opposition party, Peoples Democratic Party, PDP.