Evangelist Paul Oyeniran, Pastor in charge of Ambassador of Christ Teaching and Evangelical Ministry, has claimed that God gave him a message for former Nigerian leaders Yakubu Gowon, Olusegun Obasanjo, Goodluck Jonathan and others.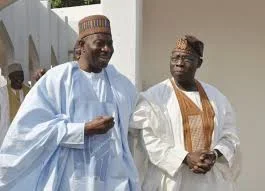 According to VANGUARD, addressing newsmen in Osogbo the Osun state capital, the Evangelist said, God told him to tell former leaders like Gowon, Obasanjo, Jonathan and others to support President Muhammadu Buhari's war against corruption.
He said: "We do not have what is required to stand as a nation. Any country willing to be independent must have fear of God, which is the most important thing. With what God has revealed to me, those that God blessed with the power of prayer should begin fasting and praying for this country.
"The anger of God will be upon this country if they allow the President to get frustrated or tired of fighting the war against corruption.
"I am directed by God to tell all former leaders and the National Assembly to have fear of God and to join the President in waging the war against corruption and social vices.