Olusola Adeniyi, a Squadron Leader (Major) was the first pilot to land in Sambisa Forest after the takeover by the military last December, an investigative report by The Nation reveals.
According to Adeniyi, who admitted the sight wasn't pretty, "Landing in Sambisa Forest shortly after the fall of Camp Zairo would linger for a very long time in my memory. It was an infamous place where all I could do for a very long time was to fly over. Eventually, I got the opportunity to land there. I took a senior military officer into Sambisa Forest where he met with the troops and addressed them and appreciated them for the work. I felt very proud to fly the first helicopter to land in that area and the personality that I took there,".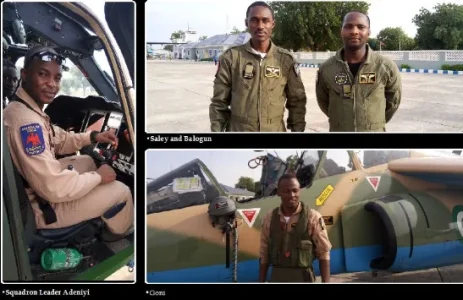 Olusola Adeniyi (Left); Photo: The Nation
"When we landed, the sight there wasn't the best – mostly deserted; the small communities around that area had been ravaged and burnt. The after-effect of what the insurgency had done to Nigeria and particularly the Northeast, to me in particular, is very painful, but I am glad about the progress we have made and that people can return to their homes. Hopefully, normalcy will return to those areas," he said.
Adeniyi revealed that he was in a vintage position to observe first hand, how Boko Haram operated from its enclave. But he would not disclose many of the things he saw.
---
The Nation