The acting President, Yemi Osinbajo, on Thursday, again met behind closed doors with the leadership of the National Assembly.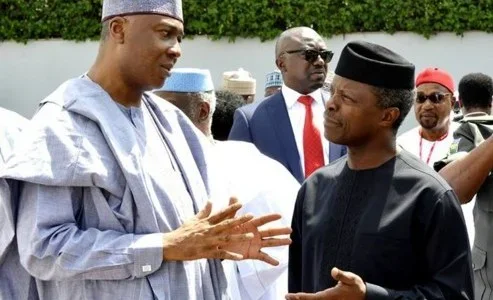 The meeting, attended by the President of the Senate, Bukola Saraki; and the Speaker of the House of Representatives, Yakubu Dogara, was held inside Osinbajo's office at the Presidential Villa, Abuja.
Saraki later told State House correspondents that the meeting centred on the country's troops deployed in The Gambia recently.
"The acting President briefed us on our trip to The Gambia and what the situation is. He told us that the Navy and the Air Force will be coming back and that it is likely some troops will be left behind," he said.
The Thursday's meeting was the second one the three leaders had this week.
They had earlier met on Tuesday to discuss the state of the economy and the 2017 Appropriation Bill currently before the National Assembly.