The Inspector General of Police, Ibrahim Idris, on Wednesday told senators investigating various allegations against him that he won't answer any question as the matter is before the court.
The police boss stated this while appearing before a Senate ad-hoc committee investigating various allegations levelled against him by a senator, Isah Misau.
He said his appearance before the committee was borne out of his respect for the Senate and not to answer questions from the lawmakers.
"I'm represented by a Senior Advocate of Nigeria here, that's Alex Izyon," Mr. Idris said.
"I will not make any other comment or answer any question in respect to the allegation (by Mr. Misau) and various civil and criminal cases pending in the law court. More especially, when the senator has already been arraigned in court in respect of these matters."
It is expected that the Senate and the committee will refrain from making reference to the issue as it would be against order 41 (7) and 53 (5) of the Senate standing order 2015 as amended."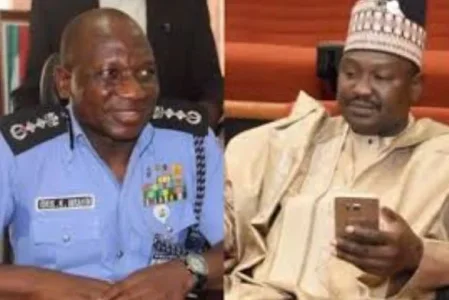 Speaking on behalf of the police boss, Mr. Iziyon urged members of the committee to study documents earlier submitted to them by the police chief and abide by the standing order of the Senate.
The chairman of the committee, Francis Alimikhena, noted that the matter was already before the committee before Mr. Idris approached the court.
"This committee was constituted before you went to court. In other words, the court is even interfering with affairs of this committee," he said.
He added that the issue the committee is investigating includes virement which is not before any court of law.
The senators resolved to study the documents and re-invite the police chief to appear on another day.