Members of the Nigerian Governors Forum met on Wednesday night to the review the ongoing efforts aimed at amending the nation's constitution.
The meeting which was held at the old Banquet Hall of the Presidential Villa, Abuja was chaired by the forum's chairman, Alhaji Abdulaziz Yari.
Yari, who spoke with State House correspondents at the end of the meeting said the governors would continue their consultation on the matter with the leadership of the House of Representatives next week.
He recalled that the Deputy President of the Senate, Ike Ekweremadu, was at their last meeting to brief them on the harmonised position of the two chambers on the amendment.
The governor said, "We had actually wanted to invite the Conference of Speakers so that we can collectively look at what was submitted for the betterment of the nation.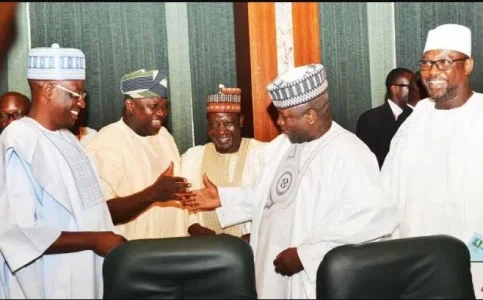 "As we agreed, the constitution is being amended for posterity and not for any other interest. Therefore, the information we are having from the House of Representatives is that Senate position it is not harmonised.
"So probably by next week, that is on the 18th, the Speaker of the House of Representatives or his representative will come and make his own presentation to us so that we look at it.
"By the way, there are so many issues of national interest: devolution of power, political agitations were not taken into considerations in that amendment.