A renowned lawyer and senior advocate of Nigeria Femi Falana have condemned President Muhammadu Buhari for not disclosed the status of his health condition to Nigeria.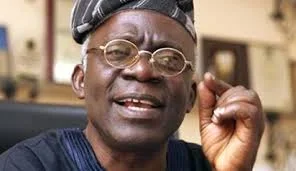 Falana said Nigerians have the right to know the health status of a sitting president.
Speaking on a Channel television's programme, Falana said even if the law does not mandate the president to make such disclosures, Nigerians deserve to know his health status.
"Under the Freedom of Information Act, the right to health is supposed to be shrouded in secrecy but I am saying now that henceforth, this situation calls for a review of the law so that we won't be left guessing next time," Falana said.
"We are talking of the President. Many state governors go in and out of the country, some for a month or two, some for three months without anybody asking any question and without any handover to their deputies," he said.
The senior lawyer said the system has been structured in a manner that a public office holder does not have to be secretive about issues concerning him.
Falana said: "But I am saying that with what we are going through now, we must come to appreciate that if you are going into public office, you have no secrecy."
"It is our duty and right and the President took cognizance of that last year when he disclosed to Nigerians what he was going abroad for. This year should not be an exception.
"This is what has given room to a lot of rumours and speculation which are totally uncalled for," he said.