Last weekend was good for the Presidential Media Team as President Muhammadu Buhari – who is currently on an extended medical vacation – put calls through, first to his Special adviser on media and publicity, Mr Femi Adesina. It was the first publicised verbal communication between him and his spokesman since the president embarked on a medical vacation on January 19.
Buhari is on medical vacation in London, and there has been widespread speculation about his health.
Meanwhile, Buhari's senior special assistant on media and publicity, Garba Shehu, also narrated how he missed the president's phone call over the weekend. Shehu stated that the president originated a call to him from London after he had spoken with some members of the presidential media team. But he missed the call. Shehu, however, revealed that he received a text message from the president.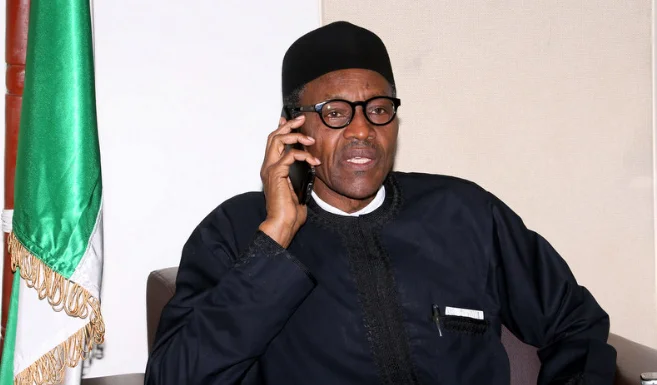 President Buhari had earlier spoken with the Minister of Information and Culture, Lai Mohammed.
Also in the cause of the week, President Buhari telephoned Kano and Katsina state governors, assuring them of his sound health, and no cause to worry.
As it is the season of telephone calls, and excitement in the presidential palace, no one knows who the President Buhari will call next.
Vice President Yemi Osinbajo who has been acting as the President is in its third time as Acting president. The first was in February 2016 when the president embarked on a five-day vacation, and the second time was in June 2016 when President Muhammadu Buhari went on a trip to the United Kingdom to treat an ear infection.
Since Buhari has been off the country's shores, Osinbajo has filled in well for his Principal, and acted articulately as a leader. He is on an economic-recovery plan move.
With his directive, the dollar came crashing, 24 hours after the Central Bank of Nigeria (CBN) released $500 million to the banks, stabilising at 450 from N525. The name of Justice Walter Onnoghen was also forwarded to the National Assembly as acting Chief Justice of Nigeria, less than 24 hours to the expiration of his three-month acting period, saving the country another constitutional controversy. A presidential task force was set up to address the skyrocketing prices of foodstuff across the country, while seven bills passed by the National Assembly were signed into law. Four others were rejected.
He has held Face-to-face talks with local communities in oil-rich Niger Delta on how to stabilise the region, fix their infrastructure and ensure a hitch-free flow of crude to the international market. Also, he has presided over five meetings of the Federal Executive Council (FEC), awarding contracts worth billions of naira, among others.
All seems returning to normal since President Buhari left for medical vacation – with no date yet for his return. But till his return, we can be sure of numerous phone calls in the near future. But again, who will President Buhari call next?