Amala and Ewedu is a very important meal in South-West Nigeria. It can be described as one of the tourist attractions found in the area. It is a super spicy delicacy that can be served at any traditional function and eaten at any time of the day.
Amala is gotten from yam while Ewedu is a leafy vegetable known in English as Jute leaf. Amala and ewedu is normally accompanied with red stew or gbegiri.
Here are 10 reasons why Amala and Ewedu is important:
Amala is a good source of Vitamin B6 which is needed by the body to break down a substance called homocysteine, which can damage blood vessels walls.
Amala contains an enzyme that provides a natural alternative to hormonal replacement in women who have reached menopause.
Amala is a good source of energy.
Amala is one of the good sources of minerals such as copper, calcium, potassium, iron, manganese, and phosphorus.
Amala is good for diabetics since it is made from yam. Yam is a low glycemic index healthy food
Ewedu leaves contains Vitamins A, C and E which protect the body from degenerative diseases. Ever wondered why women in South-West Nigeria stay young forever? , well, here's the answer : the ACE vitamins are beautifying vitamins, they increase collagen production keeping the skin firm and young-looking.
Ewedu is a good source of fiber. Dietary fiber help reduce constipation.
Ewedu is rich in Calcium which contributes to strong teeth and bones.
Ewedu leaf is used to relief pains and possess some anti tumour properties.
Ewedu leaf is rich in beta-carotone which supports good eyesight.
How to Prepare Amala:

Ingredients:
Yam flour
Water
Direction:
Heat water on the fire to a boiling point.
When the water is boiled, bring it down from the fire and gradually begin to add your yam flour. Do not add the yam flour to the water while still on the fire so it doesn't form lumps.
Begin to turn the yam flour with a wooden stick (omorogun) quickly so as not to form lumps. Turn for a while, add little water and put it back on the fire to cook on low heat for about 5 minutes.
After 5 minutes, begin to turn the amala again, keep turning until a smooth lump is formed.
How to Prepare Ewedu:

Ingredients:
3 cups of fresh ewedu leaves (de-veined and finely chopped)
2 cups of water
1 teaspoon locust beans (Optional)
1 cube magi
Salt to taste
Direction:
Place a medium size pot on high heat, add in the water and bring to a rolling boil.
Reduce the heat to medium; add in the fresh ewedu leaves. Simmer for 5-10 minutes or until the leaves are very tender
Add in the locust beans, magi and salt. Stir. Taste and adjust for seasoning
Simmer for another minute.
Your ewedu is ready to serve.
RECIPE:
9jafoodie.com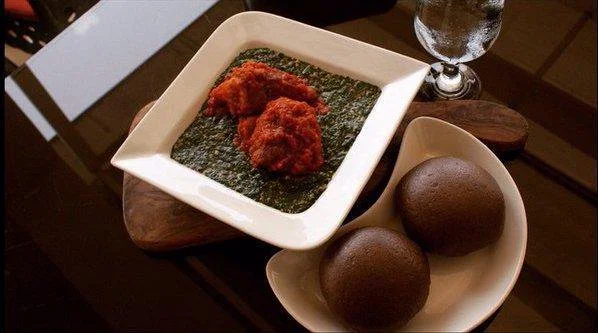 Photo Credit: Otres Restaurant