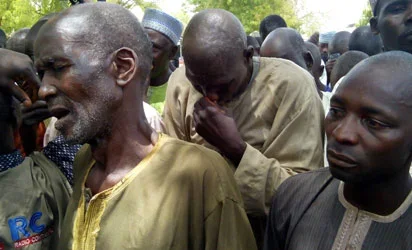 MaiduguriChibok Local Government Area of Borno State, which is south and about 160 kilometres drive from Maiduguri, the capital city, has been in the news globally, especially on April 14, when some armed terrorists, suspected to be Boko Haram members, stormed Government Girls Secondary School, Chibok and abducted over 200 female students, after destroying classrooms and public structures.
Prior to the abduction, which has generated condemnations from the international community, there were no soldiers in Chibok.
On Sunday, June 29, no fewer than 50 people, mostly Christian worshippers, were killed in Chibok, while five churches, including Cocin, EYN and Deeper Life Bible Church, in Kwada village, about 10 kilometres from Chibok LGA, were razed when some gunmen laid ambush to the village during church service.
Click here to read more
Source: #Vanguard
#Chibok #Borno #BringBackOurGirls