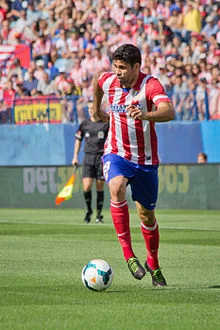 Brazilian born Spanish striker #DiegoCosta has given the latest hint that he will be lining up for Chelsea next season.
With Costa believed to have reached a deal with the English Premier League side,it is understood that what is now left is for Chelsea to finalise the deal with Atletico Madrid,before it is announced.
When asked why he would love to sign for Chelsea,the player said: "Why would I have chosen to play for #Chelsea? It is a thing that is about to happen," Costa told Goal.com
"Things are going in a direction and, if they keep going as they are going, it is the team I will play for in the next season.
"I've wanted to play in the Premier League for a while. Chelsea are one of the greatest clubs of the world so there are many factors that make you take a decision like this."
#Chelsea are believed to have met Costa's release clause,including that of agents which will cost them £35 million.
Photo Credit: Wikipedia