Abass Ope, a 24-year-old driver, has been arrested for allegedly breaking into the residence of his former boss to steal his personal belongings.
Abass was nabbed by operatives of the Rapid Response Squad (RRS), Lagos State on Boxing Day last year while trying to dispose of his ex-boss's Toyota Avensis 2013 model with registration number AGL 734 AR for N2 million.
He blamed his act on the desire to impress his siblings during the last Christmas period.
Also arrested alongside the suspect were three of his friends identified as Balogun Oluwaseun (23), Sanni Azeez (23) and Stephen Ewiele (22).
It was gathered that Abass had on Sunday, December 25, 2016 stormed his boss's Magodo home in Lagos while he and his family were holidaying in Delta State, in company of one other to steal a 100-inch and a 42-inch LCD televisions, a dog, a suitcase, two DSTV decoders and the car.
Abass invaded the home of his former boss after he learnt that he had travelled to Delta State for the Christmas holiday, and that the gatekeeper had also gone to church.
With the knowledge of where his boss kept his house keys, Abass picked the keys to the rooms and stole the items before bolting away.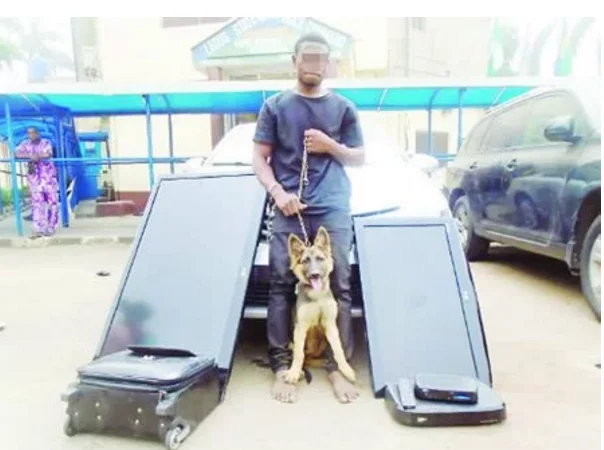 The Suspect
According to the suspect when interrogated, "I took the car because I had no money to take care of myself and my younger ones. They had no clothings, no shoes; and it was Christmas period. They looked up to me to take care of these."
He continued: "It is about three months now that I left my former boss's employment. I worked for him for four years before leaving in August, 2016. I left because he had a little challenge and things were pretty tough. I left so that he could have himself sorted out.
"He was a very nice boss to work with. He enrolled me in the university but I couldn't continue my education when I left him. While he had this challenge, he owed me eight months' salary; this was what made me take his property and the Toyota Avensis".
Abass added that "the auto dealer wanted to pay N2 million for the car but I insisted he pays N4 million because I know it is worth more than that. He offered me N1 million instantly, saying that the balance would be ready in few minutes but I decided to ignore the offer, hoping that the dealer would call me back for a re-negotiation.
"I went back to Ojuelegba a few hours after in company of three of my friends and that was when RRS operatives arrested us," he stated.
The suspect's former boss while speaking with the police said "I am in a shock. This was a guy I treated like a son. Apart from my wife, he was the closest to me. He was the one doing shopping for me and even before I bought anything for myself, I would buy for him first. How can I owe him eight months' salary when he never worked for me during the period? Did he inform me that I owed him?
"If he had told me he needed money, I would have given him because we were still very close despite the fact that he was no longer working for me."