Former Head Coach of the Nigerian Super Eagles, Sunday Oliseh has said Manchester United manager, Jose Mourinho may be struggling as a result of his change in attitude towards his players in recent times.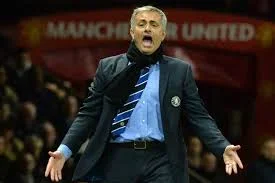 Oliseh who made this observation in a post on his blog on Tuesday titled: "Could This Be why Jose Mourinho Is Struggling?", noted that the tactician had stopped protecting his players thereby, opening them up for public attacks.
"Mourinho's nonstop attack of his own players publicly cost him his job at Real Madrid, the same happened last football season at Chelsea where just months after winning the English premier league, his nonstop public criticisms of his players and medical crew clearly hammered in the killer nail to his reign at Chelsea," he said.
Oliseh also went further to suggest that Mourinho's struggles could be linked to the availability of other richer clubs now and the evolution of World football.