Senate President, Bukola Saraki has gave reasons why Senators accompanied him to the Code of Conduct Tribunal on a daily basis.
Saraki said this in his response to Dele Momodu's letter in the Pendulum Column of ThisDay Newspaper last Saturday.
According to Saraki, "The Senators have freely accompanied me to the Tribunal not because they are loyal to me as Abubakar Bukola Saraki, but because they are committed to the principle that produced me as the President of the Senate".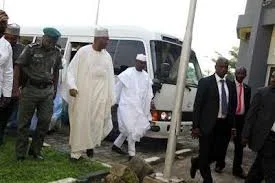 "They see all of us in the Senate leadership as manifestation of their jealously guarded right to freely choose their own leaders. Because they know they made us their leaders without any external interference; they are confident that they retain the power to remove us whenever they so wish".
"They also know what this trial is all about. They believe I am being victimized because they have expressed their right to choose their own leadership. This is why I am not in any way perturbed by my absence in the chambers during this trial. Because I was not imposed on the Senate, I feel confident that the Senate will protect its own choice whether I am present or not. It is never about me. It is about the independence of the legislature. It has always been so since 1999. It is so today and it would be so in 2019, it would be so in 2023, and as long as we practice a democracy that operates on the principle of separation of powers", he said.