Sun International was the latest South African business to exit Nigeria because of weak economic growth and clashes with regulators and shareholders, Reuters reported.
Among factors that made Sun international opting out of Nigeria's business space include;
- the dispute among members of the Ibru family over the ownership of Federal Palace Hotel in Victoria Island, Lagos.
- In January, the Economic and Financial Crimes Commission (EFCC) launched a probe into Sun International's initial investment in Tourist Company of Nigeria (TCN), which owns and operates the five-star Federal Palace Hotel in Lagos.
TCN was founded by the scion of the Ibru clan, Chief Michael Ibru, and his younger brothers – Alex and Goodie Ibru.
Sun International then bought a 49-per-cent stake of the Nigerian Stock Exchange (NSE)-listed TCN in 2006, becoming the largest single shareholder in the company.
- In recent years, however, Sun has been drawn into a dispute between the family of the late Mr. Alex Ibru, who also founded The Guardian Newspapers, and his younger brother, Goodie, who was the Chairman of Ikeja Hotels Plc – owner of Sheraton Hotels and Towers in Lagos and Abuja – before he was forced out by its shareholders two years ago.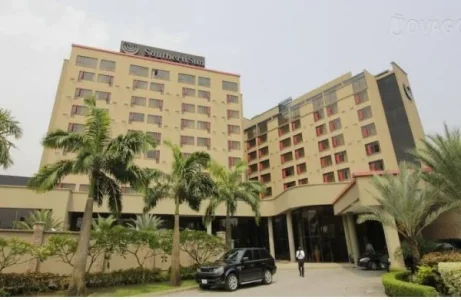 In a lawsuit filed in 2012 by Alex Ibru's widow, Mrs. Maiden Ibru, who is currently the Publisher of The Guardian, she sought for the winding up of the Federal Palace Hotel. The matter is still pending in court
- Sun International, which also reported yesterday a 20-per-cent fall in diluted adjusted headline earnings per share (AHEPS) to 628 cents for the year to June, said the Federal Palace Hotel had been hit by slow economic growth, low oil prices, the threat from militant group, Boko Haram and a weakening naira.
"The board has decided to exit Nigeria and steps will be taken to achieve this in a manner that does not erode further value," the company said in a statement yesterday.
- Shares in Sun International were down 0.47 per cent by 1139 GMT on the Johannesburg Stock Exchange (JSE).