The herbalist of Vampire – the notorious armed robber and kidnapper that was killed by the police in a gun duel has been arrested. Iweajuo Gad, the native doctor was arrested by the police in Abia State for allegedly fortifying the the robbery kingpin, Henry Chibueze aka Vampire.
The herbalist, Gad says the bandit must have forgotten to use his disappearing charm on his waist.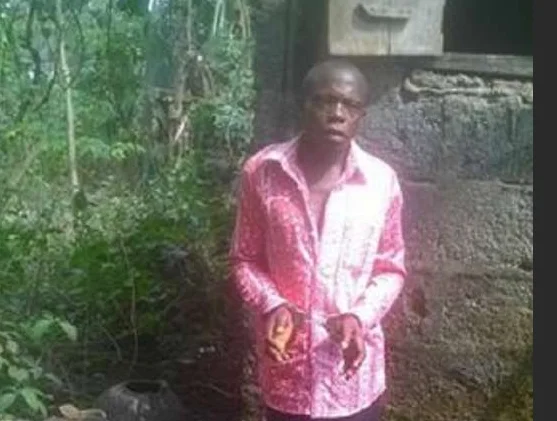 He confessed that the police would not have killed him if he had worn the charm.
Gad who was arrested in his shrine at Asoeme, Aba, said he and other powerful native doctors prepared charms for Vampire and his gang members and if that the police were only able to kill him because he did not wear his disappearing charm at the time they engaged him in the gun battle.
During his interrogation, Gad said:
"Yes, I was his juju man. I performed the special ritual that made his escape from the Owerri High Court.
I did it with the assistance of three other herbalists. Part of the rituals included causing disagreement among prison officials. We got the names of 7 prison officials through the help of Vampire's brother.
I was paid N700,000 for the ritual. On the day he was killed, Chibueze could have forgotten to tie the charm on his waist.
That was the only reason he was gunned down because the charm is very powerful."