Despite repeated xenophobic attacks, some Nigerians in South Africa have said they would not return home.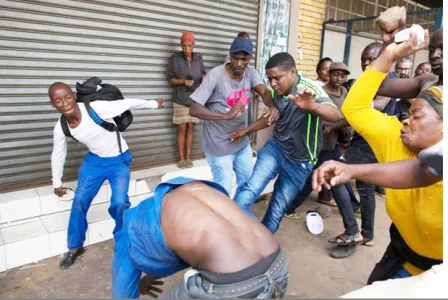 In the recent attacks which started early February 2017, at least 20 shops and homes — belonging to foreigners, mostly Nigerians — were looted and burned, as stated by the South African police.
In spite of the attacks, a Nigerian living in Pretoria, Muyiwa Adebola, said he would not return home.
Having worked as an auto-mechanic in the South African city for about five years, he said it would be "unwise" to leave now.
"This is where I have my source of livelihood. This is where I have been working for the past five years to take care of my family in Nigeria. I cannot leave now because of the attacks," the 38-year-old said.
Seun Komolafe, who has lived in the former apartheid colony for about nine years, said the reason for the attacks is that "South Africans see Nigerians as a threat to their survival because of our hardworking nature."
He said, "The reason why many of us have decided to remain in South Africa is because things have yet to work properly in Nigeria. Getting a job with your academic qualification is easier here than in Nigeria.
"Over the last few days, I have spoken to many of our people here who would have loved to come back to Nigeria, but can't do so yet because they don't know what to survive on if they return."
Mr. Gabriel Eze, a resident of Johannesburg for 10 years, is a luxury store owner in the city. Eze said since he had invested all his life in the business, it would be foolish to leave now.
He said, "My family is here, so there's nothing to come and do at home. Where you succeed is where you call home. I was struggling in Nigeria before I came here in 2007.
"If you think of the attacks, you would do nothing. I have insured my business. So if anything happens, I'll not be too sad. I may only think of returning to Nigeria if there is no kidnapping, epileptic power supply and poor infrastructure. To be sincere, these are the things that drove us out of Nigeria."
Abdulraman Abubakar, who has lived in Pretoria for 12 years, also cited poor infrastructure as reason for not willing to return to Nigeria.
A Nigerian living in Johannesburg Central, Mr. Ade Adesina, also said he was not planning on returning to Nigeria despite the xenophobic attacks.
He said, "The South African government has not asked us to leave, so I will remain in the country.