The law has caught up with Okechukwu Okonkwo and Lucky Ifedigbo who inserted 7 wraps of cocaine, weighing 350 grams, each into their anuses. They were arrested by men of the National Drug Law Enforcement Agency (NDLEA) Murtala Mohammed International Airport (MMIA) Lagos.
The duo said they stucked the wraps into into their alimentary canals to escape arrest.
Okonkwo, 44 said that he accepted to smuggle drugs because of frustration and also because he needed money to leave Brazil. Ifedigbo, 37, on the other hand, said he became a drug courier because he was looking at the profit margin. NDLEA agents arrested the suspects at the Murtala Mohammed International Airport (MMIA) Lagos, on Nigeria-Brazil route.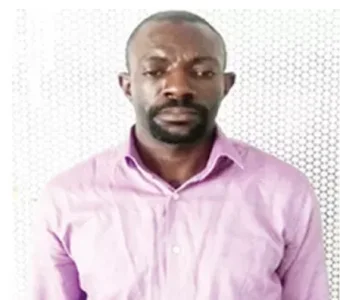 One of the suspects. Photo: New Telegraph
They were arrested during the inward screening of passengers on a Royal Air Maroc flight from Sao Paulo, Brazil through Casablanca, Morocco. The agency recovered 700g of powdery substance that tested positive for cocaine from the two suspects.
According to Okonkwo, "I was stranded in Brazil where I worked as a waiter in a restaurant for two years. Life was awful as I struggled daily to feed myself. When I was contacted to smuggle cocaine to Nigeria, I was very happy because it was an opportunity to return home.
My sponsor also promised to pay me N500,000, with which I had planned to start a business." Ifedigbo, who has also spent two years in Brazil, described his arrest as a stroke of ill-luck. He said: "I'm a businessman. I import female shoes from Brazil since 2014.
This arrest is just bad luck for me because I was already calculating my profit from the deal."
--
New Telegraph