Brigade Commander 707 Special Forces, Brig. Gen. Clement Apeere says his men invaded communities in Agatu, Benue to recover the body of the slain soldier.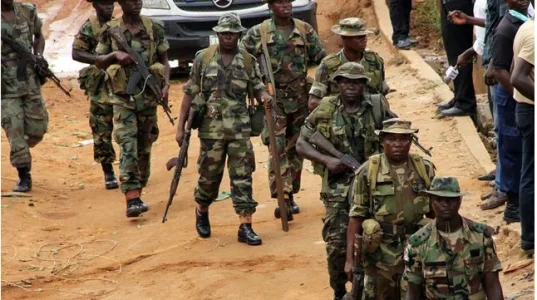 Brig. Gen. Apeere who spoke at a press conference on Wednesday at the temporary office of the force located at Hoodko quarters, Makurdi, said troops of 72 Special force battalion were deployed to the area to recover the body of the slain soldier, arms and ammunition stolen by the militant.
"On receiving the information, the troops of special forces battalion moved to Oweto to recover the body of the killed soldier, the troops conducted condoned and search operations to apprehend youth militias that committed the act and recover the soldier's rifle and ammunition they carried away".
Speaking further he said the troops recovered several sophisticated weapons, ammunition, such as, two AK 47 rifles, two SLR rifles, two G3 rifles, one fabricated pistol, three locally made pistols, two short barrel local revolver guns and 14 dane guns as well as police and military kits.
Apeere said "the operation we conducted in the area was carried out in a professional way, adding, that his men were able to achieve their mission during the operation.
"We got intelligence where the hoodlums were, we swooped on the areas but before we got there some of them had escaped but could not escape with the arms and ammunitions".
He said the military will continue to secure the lives and properties of law abiding citizens in the community.