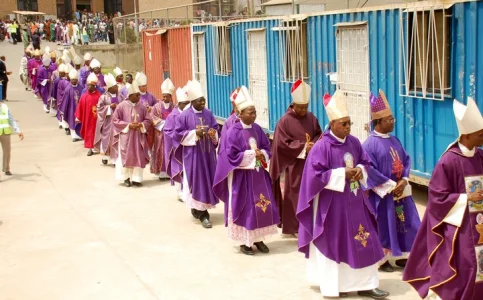 On January 24, 2013, Premium Times carried a story talking about the Catholic church's reason for pulling out of the umbrella body for Nigeria's Christians, the Christian Association of Nigeria (CAN.)
The Catholicn church said it was pulling out of the Pastor Ayo Oritsejafor-led body because of the way it was run, citing politicization, attitudes and utterances which were in contrast with Christianity and the ways Jesus Christ.
From Premium Times:
In a letter to Mr. Oritsejafor in September but made public Wednesday, the Catholics, one of the association's most influential blocs, said it was temporarily exiting "over some recent attitudes, utterances and actions of the national leadership of CAN which in our opinion negate the concept of the foundation of the association and the desire of Our Lord Jesus Christ".
The letter, dated September 24, 2012, is signed by Most Rev Ignatius Kaigama, President, Catholic Bishops' Conference of Nigeria (CBNC) and addressed to Mr. Oritsejafor. Mr. Kaigama said his group was suspending "participation in CAN meetings at the national level until such a time the leadership of CAN reverse back to the original vision, mission and objectives of CAN".
Expatiating further on its grouse with the Oritsejafor-led leadership of the association, the bishops lamented that CAN had been politicized and was no longer being used to promote peace and unity in the country.
Click here to read more
Source: #PremiumTimes