Dakuku Peterside, former Governorship candidate of the All Progressives Congress, APC in Rivers state has said that the Rivers State Governor, Nyesom Wike lacks "intellect, foresight, ingenuity and capability" to preside over the affairs of the state.
Peterside, who is the Director General of the Nigerian Maritime Administration and Safety Agency, NIMASA, stated this while speaking on a bill presented before the Rivers State House of Assembly, seeking to repeal Rivers State Reserved Fund Law No 2 of 2008.
Recall that the immediate past governor of the state, Rotimi Amaechi had assented the bill, following its passage by the State House of Assembly when he was the governor.
The Rivers State Reserve Fund Law was aimed at saving for the future of the state, but Wike's government is now seeking to repeal it.
Frowning at Wike's decision to repeal the law, the NIMASA DG urged people of the state to call Wike to order over his "desperation to compromise all known policies, programmes and institutions" created by his predecessor, saying it was capable of throwing the state into chaos.
In a statement by his media team which was sent to DAILY POST, the NIMASA DG stressed that Wike seems to lack creative ideas on how to govern the state.
The statement reads, "At a time when countries of the world are working hard to secure a sustainable future for their people, looking for more avenues to increase their saving for future needs, when the Federal Government is doing all it can to increase our foreign reserves, Governor Wike is doing exactly the opposite.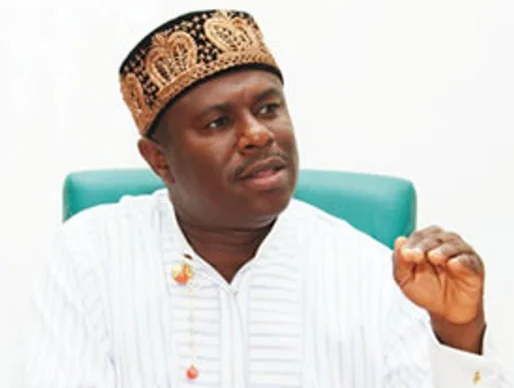 "Rivers people are worried that the governor lacks sense of accountability and responsibility. This is a state where nobody saw 2016 budget, where 2017 budget recently signed by the governor is yet to be made available to anybody, including members of the House of Assembly. Wike should not make the future of our state seem hopeless.
"Not too long ago, the Federal Government refunded over N15 billion to the coffers of Rivers state from excess deduction over Paris Club exit. Till date, the state governor has not told Rivers people what he intends to do with the money, nobody knows what has happened to the money. Doctors, teachers, fire service men, pensioners amongst others are protesting unpaid wages and lack of working tools.
"Here is also a governor who has borrowed over N100 billion since he assumed office but nothing on ground to justify such huge amount. The same man is now seeking to repeal law that makes it compulsory for the state to save monthly from its federal allocation.
"Here is a governor that has not employed anybody since he came into office but has rendered many people jobless and helpless. Staffs of TIMARIV and RSSDA are still being owed till today, just as many of the primary health centers and primary schools built by the Amaechi-led administration have been abandoned."