Rivers State governor, Nyesom Wike, has ruled out reconciliation as one of the methods of tackling the crisis rocking the Peoples' Democratic Party (PDP).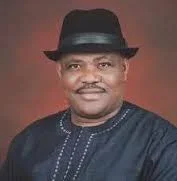 Wike said: "Nobody can say he does not want reconciliation. How many times has PDP set up a committee on reconciliation?
"You realized that when we lost election in Ondo state, there was a statement made by Sheriff and company. And if we had lost election in Rivers state, they would have come up with a statement. They would have said: 'How will we win when people like Wike don't want people to participate.'
"Is that the one you want to be national chairman of a party?
"But because we won, they could not come up with any statement. That is the kind of thing I am talking about. In all honesty, I cannot see myself making commitment to work with that kind of leadership.
"Leaving the PDP is not an option yet ; I have hopes that there is no way the Appeal Court judgement that affirmed Ali Modu Sheriff as PDP national chairman can stand. I believe we have a good case against Sheriff.
"The APC knows that the only way it can survive is to make sure PDP does not come up. The real PDP members are working very hard to make sure the party is put together. That is why I am telling you of the moles.
"There are certain characters I cannot see myself sitting down with them and talking politics. I don't have the confidence that Ali Modu Sheriff can lead this party."