Miss Kehinde Adeniyi, a 60-year-old single mother has been arrested and charged before Isolo Magistrates' court for allegedly using a table knife to cut off her neighbour's ear in Lagos State, western Nigeria. The victim, Chigozie Chukwu suffered his fate after a disagreement between his wife and Adeniyi when he was not around.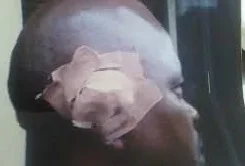 The incident happened at 24, Mohammed Sefiu street, Ago Palace Way Okota, Lagos where they reside.
It was learnt that the two families have been at loggerheads which led to a strained relationship despite the fact that they are living in separate flats.
This did not go down well with Adeniyi who planned to confront Anita on that fateful day and when she did not locate her, she transferred her aggression to her husband.
On the day the incident happened, Adeniyi reportedly attacked Chukwu from behind with a table knife She allegedly cut off his right ear and threw it away.
Adeniyi, who hails from Ijebu in Ogun State, is single and has many children, while Chukwu is also married and has children and hails from the eastern part of Nigeria.
Trouble started after Chukwu's wife, Anita, had a quarrel with Adeniyi.
According to Adeniyi, Anita called her a prostitute because she was single mother with children.
Click here for
Source
Last edited: