A woman, identified only as Bassey, has been arrested for allegedly inserting a stick of broom dipped in pepper into the private parts of a nine-year-old boy, identified as Promise, in the Ebute-Meta area of Lagos State.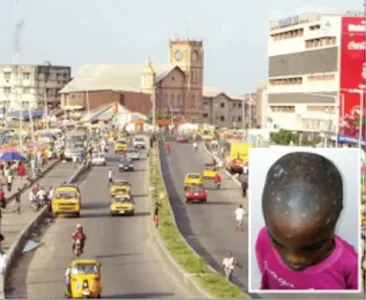 Punch reports that Bassey had accused the victim, who was her nephew, of stealing N2,000.
Forcing him to confess to the crime, the mother of four allegedly resorted to the extreme measure.
Neighbours, who had reportedly observed the continuous abuse of Promise, reported the case to the police at the Iponri division.
Promise was taken to a hospital, where the stick of broom was removed.
A neighbour, who did not want to be identified, said Promise had been living with Bassey on Ashaka Street for the past five years, adding that his parents were late.
He said,
"Promise is the son of Bassey's elder sister. His mother brought him to live with her so she could assist him with his education.
"The boy was formerly in a private public school, but he was withdrawn immediately his mother died. His father is also late. Since that time, she turned him into an errand boy.
"I have known the boy for three years now and can categorically say that he is always being maltreated.
"There was a time the guardian beat him up and tortured him with a needle. She starved the boy for three days.
"On another occasion, she sent the boy out of the house in the night and left him outside till daybreak."
He added that despite having four children from different men, Bassey had never maltreated her own kids.
Another tenant said matters got to a head on Wednesday, January 4, when the suspect allegedly inserted a stick of broom which had been dipped in pepper into Promise's penis for allegedly stealing N2,000.
The Police Public Relations Officer, SP Dolapo Badmos, confirmed the incident, adding that the suspect had been remanded in prison.