A Florida woman, Egypt Moneek Robinson in 2015, stabbed her 3 year old son, Aries Juan Acevedo and stuffed his body in a suitcase. Adding to the horrific and senseless act, she carried the suitcase into her backyard and dropped it in the swamp behind her home. After missing reports of the son was made by her family members, police visited Robinson.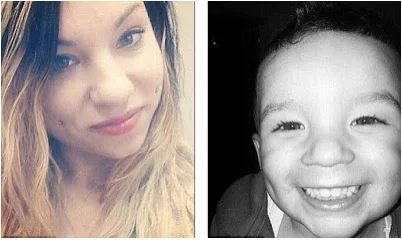 When Robinson was questioned about the heinous crime, she told one of the deputies on the scene:
"Just put me into handcuffs. I did it. I killed my baby and put him inside of the suitcase."
A report filed by the deputy who drove her to the sheriff's office claimed Robinson made multiple, unprompted statements about the world ending in a Biblical flood.
She said:
"The world is going to flood and everyone was going to be drowned and I can't be drowned, therefore, I have to be shot in the head." Robinson added: "Everyone on Noah's Ark relived and my baby will relive again!"
While the deputy reported that Robinson claimed she was "just trying to save her baby," a statement she allegedly made to one of her cellmate paints a much darker picture. Tiffany Powell told investigators that Robinson had no remorse over her son's death because she believed her son was "the soul of Hitler."
According to a police report, Powell said:
"She still thinks to this day that he is supposed to be dead. She did it because she said he was the soul of Hitler. His birthday is 4-20 and um he was an evil child, she said. And she said if she didn't kill him...he was going to keep, grow up and kill all of us. She basically, she like, saved us by sacrificing him."
Robinson has been held without bail since her arrest. With a hearing scheduled for February, reports suggest that prosecutors will seek the death penalty.