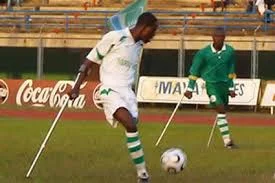 World Amputee Football Federation (WAFF) has suspended Nigeria from participating in its activities for not being able to pay its annual fees.
Member of the Amputee Football Federation for Africa(AFFA) Pius Asaba revealed that the suspension came as a result of Nigeria not paying its 2013 annual dues.
For failing to pay the fees,Nigeria has been excluded from the 2014 Amputee World Cup which Mexico is hosting later in the year.
"We have been sanctioned by the world body, and the implication is that our national team will no longer be allowed participation in the World Cup, organised by WAFF," Asaba told the News Agency of Nigeria(NAN)
" It is very painful because we are all aware of the implication of none or late payment of the dues, it's so unfortunate that our country is now a victim this year.
"Now we have to pay dearly for this. All the preparation and aspiration of our national team to feature at the world Cup has gone to the wind,'' he said.
Asaba noted that the ban will affect the players:"This have unfavourable affect on players.
"This is a sport that has really kept some of our talented footballers off street and they are so committed in their training and preparations for this game.
" I am always impressed with what I see during their open camp training towards preparation for football fiesta, but they cannot actualise their dream of participating at the world cup,'' he added.
Photo Credit: Africareview.com
Last edited by a moderator: